Turn-Key Mixed-Use Urban Housing
Intelligent City provides the design, fabrication and delivery of innovative urban housing for sustainable and inclusive communities.
Our approach reduces risk and outperforms conventional housing projects in speed, accuracy, and quality. Our buildings are more sustainable, livable, and affordable. Our delivery is effective, trouble free and cost-efficient.
Communities and
Urban Living Solutions
We have 25 years of experience in the design of sustainable urban communities and livable homes that meet the rapidly changing needs of our society. Our success has proven that there is a need for high-quality homes. 
Our buildings are not only for the individual but for communities. They create privacy gradients, promote sustainable community engagement, and offer comfort, natural light, and flexibility. 
We connect residents, buildings, communities, and cities. With the right combination of residential and commercial services, our urban living developments are designed to be neighbourhood catalysts. 
Based in Vancouver, BC, our team is engaged with questions of livability, sustainability, and affordability. Our products embody our company culture, promoting local context and community engagement.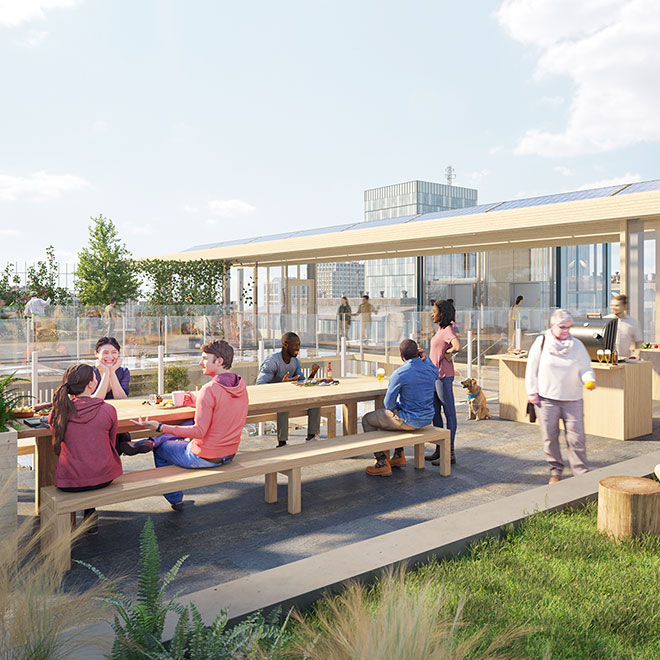 Powered by a proprietary end-to-end design process, Platforms for Life encodes the relationship between parameters and design response with innovative algorithms. 
Platforms for Life, our digitally controlled end-to-end process, enables us to deliver faster, with more control, and at lower cost. The results are lower financing costs, faster construction, and cost certainty. 
Prefabricated mass timber and Passive House are a perfect combination for carbon neutrality. Locally sourced timber enables carbon sequestration while the high-performance envelope ensures low energy consumption.
Mass timber is a sustainable, renewable, lightweight and strong building material. It has an inherent fire and seismic safety and naturally controls room climates. It is high-tech and natural at the same time, providing a path to carbon neutral buildings.
A standard for energy efficiency in building, Passive House reduces the ecological footprint of a building requiring almost no energy for heating or cooling. It stands as an important sustainability criterion, reducing operating costs by up to 80%. 
Our building systems are successful because they provide long lasting quality and offer a unique way of urban living. We care about longevity, durability, low maintenance and energy cost, and future proof value retention.
Our proprietary parametric and prefabricated building system, Platforms for Life, makes it possible to adapt buildings to a multitude of urban scenarios. Combined with the use of mass timber, this process enables us to build housing solutions that meet the rapidly changing needs of society.