DELTA, B.C. – October 14, 2021 – Intelligent City has begun building urban housing projects in the company's new factory on River Road in North Delta after developing and commissioning its robotics technology to aid in providing breakthrough turn-key housing for developers, landowners, and housing operators. The opening of their factory was officiated by the Honourable John Horgan, Premier of British Columbia, the Honourable Ravi Kahlon, Minister of Jobs, Economic Recovery and Innovation, and Brian Hawrysh, CEO of BC Wood.
The company is a leader in innovative urban housing, sustainability, building technology and design methodology, and has gained municipal approvals and broad government support for its mass timber building system and technology development.
Intelligent City's co-founders Cindy Wilson and Oliver Lang, who have worked in architecture for 25 years, led the company with their vision since it was founded in 2008. Intelligent City's mission is to empower people to live better urban lives.
"Today marks a very important milestone for Intelligent City. We are leading the housing industry through a product- and platform-based approach to address affordability, livability and climate change issues. We are now the first in the world to use advanced robotics to automatically assemble mass timber building systems that have been tested to meet the latest building code and net zero standards," Oliver Lang says.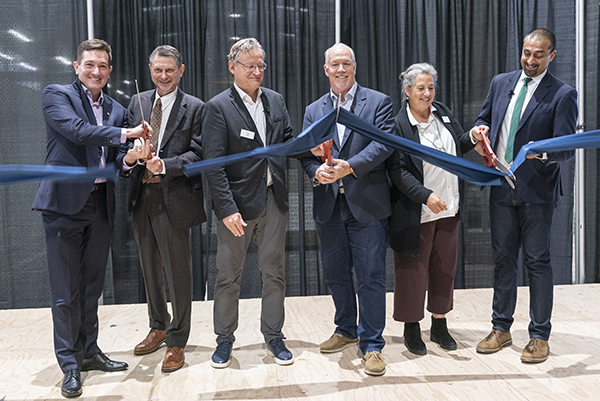 Recently, Intelligent City won the Breakthrough Energy Solutions Canada competition, plus the company has received financial support from a variety of funding programs in Canada. The BC Government supported Intelligent City's business with $460,000 in funding – from theCleanBC Building Innovation Fund.
"When it comes to tackling the issues of climate change and housing, we know we need to be at leading edge of innovation," said Ravi Kahlon. "This type of tech and ingenuity are the type of solutions that advances B.C.'s building sector in a sustainable way. Using mass timber is key to creating a more resilient forest sector, it's the construction material of the future and it allows us to rethink what's possible. We are happy to support these types of projects through our CleanBC building innovation fund."
Intelligent City is focused on the construction of mid-to-high-rise urban housing as well as commercial buildings through the convergence of mass timber, design engineering, automated manufacturing, and proprietary software. The company is currently working on project totaling 2880 homes in Canada and 1400 homes in the U.S., many of which are supported by BC Wood.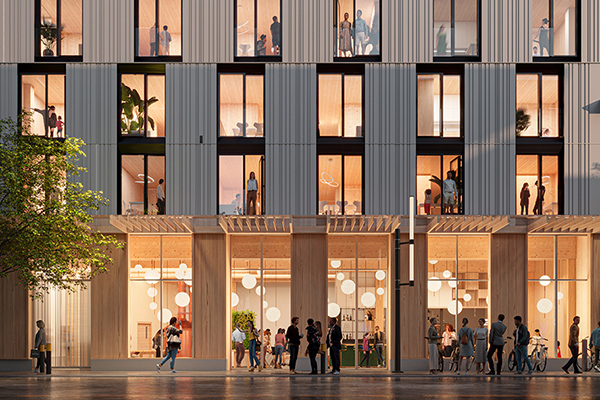 "BC Wood is excited to work with Intelligent City and support its commercialization as a leader in mass timber construction for the urban multi-family housing market" says Brian Hawrysh. "We believe their revolutionary approach to create affordable, desirable, and carbon-neutral buildings can offer a compelling solution to the urban housing crisis faced by many cities across Canada."
Intelligent City combines several technologies to design, manufacture, and deliver buildings as customizable one-stop solutions. An adaptable building platform made from large mass timber assemblies forms the foundation. As a fire-safe, structurally rigid, and sustainable building material, mass timber can be used for high-rise applications 18 storeys and higher.
To offer flexibility, the company has integrated its building platform in a proprietary, automated, software and manufacturing workflow. Both allow for a high level of customization without causing any added complexities or cost. The result is a consistent and reliable yet individualized delivery process for buildings. The company is expected to deliver its first projects in early 2022 in Vancouver, BC.
To receive access to a full press package, please provide your email address below:
Click below to download the factory opening press package
By clicking submit, you agree to share your email address with the site owner and Mailchimp to receive marketing, updates, and other emails from the site owner. Use the unsubscribe link in those emails to opt out at any time.
To receive more information, please contact:
David Wan, Director of Business Development
david.wan@intelligent-city.com